Our Group of Directors
Ortega y Gasset is a non-profit organization run by a group of directors based in New York and other regions throughout the US. All directors are working artists and in addition to writing, curating, installing and doing administrative work to run OyG, their directorship enables them to connect with the community that OyG fosters to support their practices as painters, photographers, sculptors and writers. Learn more about each director below and see their current projects via their instagram feeds.
Directors: Eleanna Anagnos | Clare Britt | Eric Hibit | Will Hutnick | Nickola Pottinger | Adam Liam Rose | Tiffany Smith | Zahar Vaks | Lauren Whearty
Eleanna Anagnos (She/her) (born Evanston, IL) is a New York-based artist and curator. She earned her MFA in Painting from the Tyler School of Art (2005) and a BA with honors and distinction from Kenyon College with a concentration in Women's and Gender Studies (2002). Recent shows include: The BRIC Biennial (Brooklyn, NY), NYC solo debut at High Noon Gallery, CSPS (Cedar Rapids, IA), Maharishi University (Fairfield, IA). Anagnos is the 2018-2019 Grant Wood Fellow in Painting. Other awards include: The Rauschenberg Foundation Residency (2019), Yaddo (2017), BAU Institute (2016), The Anderson Ranch (2011), The Atlantic Center for the Arts (2009), and The Joan Mitchell Foundation (2011, 2009). Her work has been featured in The New York Times, Hyperallergic, Maake Magazine, and Artnet, among others. Her curatorial projects have been featured in the New York Times, Art in America and the New York Observer. Eleanna has been a Co-Director at Ortega y Gasset Projects since 2014. You can find out more information about Eleanna's practice and curatorial projects at www.eleanna.com
Clare Britt (She/her) is a photographer living and making in Chicago, IL. Her work explores themes about materiality and form deconstructing photographic images and making layers of found images to create sculptural collages. She also uses light as subject and found objects in space to transform ordinary places for site specific installations. She founded the Nonprofit Arts Organization Fraction Workspace in Chicago, IL (2003-2007). She graduated from the University of Illinois at Chicago with a Masters in Fine Arts (2008). She is a freelance photographer traveling the country documenting various projects that include the Friedman House assisted living facility for the visually impaired and One Tail at a Time no kill dog rescue Center. She is a co-founder and Director of Ortega y Gasset Projects based in Brooklyn, NY. Visit her website at www.clarebrittphoto.com and follow her on instagram at claremerica.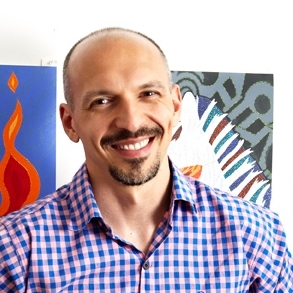 Eric Hibit (born Rochester, NY 1976) lives and works in New York. He attended the Corcoran College of Art + Design (BFA,1998) and Yale University School of Art (MFA, 2003). In New York, he has exhibited at Max Protetch Gallery, Anna Kustera Gallery, C24 Gallery, Zurcher Studio, Field Projects, TSA Gallery, and Ortega y Gasset Projects. He has exhibited nationally at Curator's Office in Washington, DC, Geoffrey Young Gallery in Great Barrington, MA, The Cape Cod Museum of Art, The University of Vermont, and internationally in Giverny, France and Paris, France. His work has been reviewed in the Village Voice and the Washington Post. Hibit has taught studio art at Tyler School of Art, Hunter College, NYU, and Cooper Union. In 2014, he joined the artist-run curatorial collective Ortega y Gasset Projects. erichibit.com oygprojects.com
Will Hutnick is an artist and curator based in Wassaic, NY. He received his M.F.A. from Pratt Institute (Brooklyn, NY) and his B.A. from Providence College (Providence, RI). His work has been exhibited most recently at LVL3 Gallery (Chicago, IL), Vox Populi (Philadelphia, PA), Paradice Palase (Brooklyn), Geoffrey Young Gallery (Great Barrington, MA), DEMO Project (Springfield, IL), Tiger Strikes Asteroid (Brooklyn), The Java Project (Brooklyn), Providence College Galleries (Providence, solo) and Pratt Institute. Hutnick has curated numerous exhibitions at SPRING/BREAK Art Show, Ortega y Gasset Projects, Trestle Projects, Pratt Institute (New York and Brooklyn) and Hamiltonian Gallery (Washington, DC). He has been an artist-in-residence at Yaddo (Saratoga Springs, NY), DNA Gallery (Provincetown, MA), Wassaic Project (Wassaic, NY), Vermont Studio Center (Johnson, VT) and a curator-in-residence at Benaco Arte (Sirmione, Italy) and Trestle Projects (Brooklyn). Hutnick is a 2017 Martha Boschen Porter Fund grant recipient from the Berkshire Taconic Community Foundation as well as a 2015 grant recipient from the Foundation for Contemporary Art. He is the Co-Director of Ortega y Gasset Projects, an artist-run curatorial collective and exhibition space in Brooklyn, and is currently the Residency Director at the Wassaic Project, a nonprofit organization that uses art and art education to foster positive social change.
Nickola Pottinger lives and works in Brooklyn, New York. She was a nominee for the for the Rema Hortmann emerging Artist Grant in 2018. Her work has been exhibited at Mild Climate in Nashville TN, Far X Wide, Deli Gallery, Ortega Y Gasset Projects, Industry City, and Jack Shainman Gallery in New York. Pottinger received her BFA from the Cooper Union. Nickola's work has been written up in Hyperallergic and the Epoch Times.
Adam Liam Rose (b. 1990) is an interdisciplinary artist working across sculpture, photography, video and installation. Born in Jerusalem and raised mostly in the United States, his works investigate the aesthetic systems of power embedded within architecture. Rose received a BFA from the School of the Art Institute of Chicago ('12) and an MFA from Columbia University School of the Arts ('17). His works have been exhibited at museums and institutions including the Jewish Museum (New York, NY), the Chicago Artists Coalition (Chicago, IL), Marinaro Gallery (New York, NY), Mana Contemporary (Chicago, IL), Sullivan Galleries (Chicago, IL), and Ortega Y Gasset Projects (Brooklyn, NY), to name a few. He was a fellow at the Bronx Museum of the Arts' AIM Program, the Art & Law Program in New York, and is a recipient of an Artis Contemporary Residency Grant. Rose was awarded artist residencies at Triangle Arts Association (Brooklyn, NY) the Bemis Center for Contemporary Art (Omaha, NE), Ox-Bow School of Art (Saugatuck, MI), A-Z West: Institute of Investigative Living (Joshua Tree, CA), the Vermont Studio Center (Johnson, VT) and the Chicago Artists Coalition's HATCH Residency (Chicago, IL). He lives and works in Brooklyn, NY
www.adamliamrose.com
Tiffany Smith (She/her) is an interdisciplinary artist, currently based in Brooklyn, NY. Working between photography, video, installation, and design, Smith creates photographic portraits, site responsive installations, user engaged experiences, and assemblages focused on identity, representation, cultural ambiguity, and displacement. Smith received her BFA from Savannah College of Art and Design and MFA from School of Visual Arts, NY. Her work has been exhibited internationally including shows at National Art Gallery of the Bahamas, The Bronx Museum, MassArt, The National Gallery of Jamaica; during Photoville, Photo NOLA, and Spring Break Art Show; and most recently in solo exhibitions at Recess Assembly, Brooklyn, NY, and Montserrat College of Art, Beverly, MA. Tiffany Smith is a 2018 NYSCA/NYFA Artist Fellow in Interdisciplinary Work from The New York Foundation for the Arts and is currently based in Brooklyn, NY.
Zahar Vaks (born 1983, Tashkent, Uzbekistan) Is a multi disciplinary artist based in New York, NY. He earned his BFA from Tyler School of Art, and his MFA from The Ohio State University. He has shown in New York, Philadelphia, New Jersey, Columbus, Las Vegas, Galveston, Houston and Los Angeles. Recently he has shown at the CAMH museum in Houston and at Leslie Heller Workspace in NY. Zahar attended the Galveston Artist Residency from 2012-2013. In 2014 He joined the Ortega y Gasset Projects (OyG) an artist-run curatorial collective and exhibition space in Gowanus, Brooklyn where he is currently a co director. You can find more information about Zahar's practice and curatorial projects at www.zaharvaks.com .
Lauren Whearty is a painter who lives and works in Philadelphia, Pa. Lauren received her MFA in painting from The Ohio State University where she received a Graduate Teaching Associate Award, an Arts and Humanities Research Grant, and was nominated for the Joan Mitchell Foundation Grant. She received her BFA in Painting from Tyler School of Art, Temple University, with honors. While attending Tyler, Lauren received the Ellen Battell Stoeckel fellowship to attend Yale's Summer School of Art residency in Norfolk, CT. She has attended Vermont Studio Center with a fellowship, and has exhibited at such venues as the Woodmere Museum of Art in Philadelphia, The Center for Emerging Visual Artists in Philadelphia, Vox Populi, Satellite Contemporary. Lauren has taught at The Ohio State University, Tyler School of Art, University of the Arts, and Hussian College of Art. Lauren is currently a Visiting Assistant Professor at Lehigh University.
Past and Silent OyG Co-Directors and Members include:
Current Silent members: Sarah Rushford, Leeza Meksin
Past Silent members: Kathryn Lofton, Marcel Campbell, Diane Karp
Past Co-Directors: Lauren F. Adams (founder), Joshua Bienko (founder), Catherine Haggarty , Carrie Hott (founder), Fritz Horstman, Jessica Langley (founder), Leeza Meksin (founder), Sarah Rushford, Sheilah Wilson (founder), Christine Wong Yap and Karla Wozniak (founder).
Interested in becoming a silent member?